Faculty
Salini P. S (Founder/Managing Director/Lead Trainer)
An internationally recognized pioneer in yoga training and also in Yoga Philosophy classes, Salini Padmaja Sasikumaran Nair [Salini.P.S] is the founder of SAMYOGA which is an explorative initiative while working through her own life experience with hundreds of licensed practitioners, Doctors, Instructors around the world. SAMYOGA follows basically Krishnamachrya Tradition and Hatha Yoga system which is renowned as an, internally focused practice that emphasizes how to carry a transforming experience off the yoga mat into the daily life. Usually yoga teaching means teaching asana, breathing practice and an awareness of the movement of the energy flowing through the body, Salini teaches yoga from an intuitive and highly developed understanding of the human body and psyche. With her meticulous guidance, Salini's students cultivate an acute awareness of their own practice and life process, resulting in an exhilarating journey into self-discovery, cleansing and healing through yoga.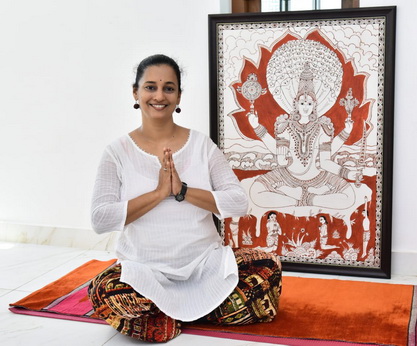 A QCI certified International Yoga Consultant & Teacher; she is appreciated for her discourses on Patanjali Yoga Sutra, the classical text on yoga by Sage Patanjali. She was engaged as Yoga Expert in Seychelles by the Indian Council for Cultural Relations, New Delhi for the conduct of mass yoga sessions as part of the 3rd International Day of Yoga in Mahe, Seychelles. Salini holds a Master's in Yoga, M.phil in Yoga, and PG in Psycho Neurobics. She is also a qualified yoga teacher, children's yoga teacher from Yoga Alliance. As a research scholar, she is currently involved in the therapeutic application of yogic science based on the Patanjali Yogasutras for her Ph.D. in Yoga. She organizes workshops on yoga for marginalized people in the society and provides individual counseling sessions.
Smt: S Krishnakumari (Honorable Managing Partner)
An embodiment of women's empowerment, she has lead several movements in Trivandrum for upliftment of women and girls in her community. She is working for All India working Women's Congress (AIWC), N.S.S TRIVANDRUM unit rendering her time and efforts to uplift the situation of the socially and circumstantially underprivileged women and children. Her passion and enthusiasm towards Yoga and Ayurveda is reflected in her contribution to Samyoga. She serves as our technical and legal adviser and she is a part of administrative office of Samyoga Yoga Karyalayam, Thiruvananthapuram.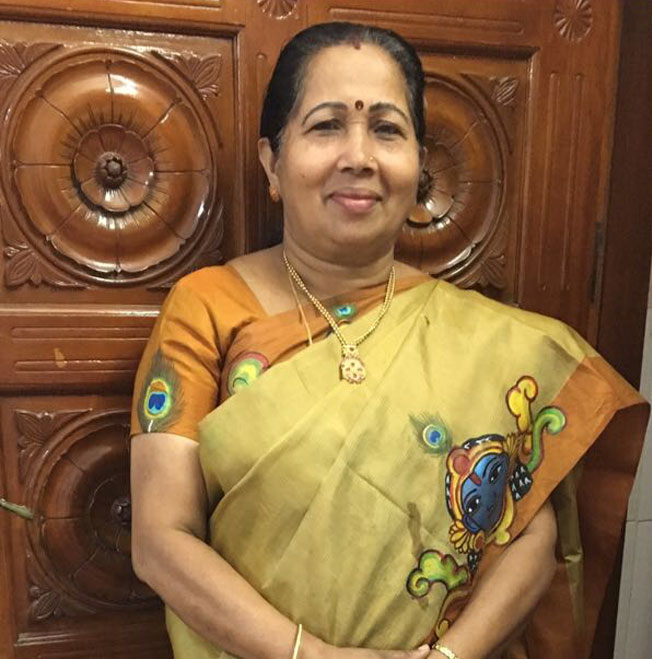 Dr. Soumya. L, B. S. M. S (Bachelor of Siddha Medicine and Surgery), FAN Fellowship in Applied Nutrition
A well-established Yoga, Siddha Medicine Nutritional Expert, relentlessly working towards promoting health among women through correct dietary and Yoga practices, she is a well-known Traditional medicine (Siddha system) consultant empowering women's health, fitness & wellness through her own establishment Agastaysree Wellness Centre for Women. Her dedication and sincere efforts towards women's health and fitness concerns incorporating Yoga in her practices helped in empowering herself as a successful Siddha Doctor and holistic healing consultant. She completed her fellowship in Applied Nutrition from Medvarsity under Apollo Hospital, Hyderabad. For Samyoga School she is the lead course consultant for Nutrition and diet courses as well as consultant physician in Traditional medicine.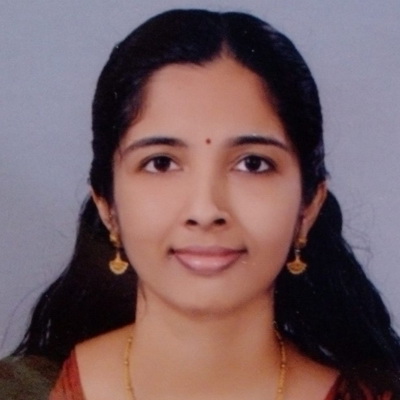 Jaya Prakash Master (JP SIR)
Jayaprakash is one among the lead Yoga teacher of our teacher training programs. He has more than 20 years of experience in yoga and a real spiritual and humanitarian teacher. He has completed his teacher training from Sivananda Ashram. He has spent several years studying numerous traditional styles and disciplines at various Ashrams in India like Sivananda, Isha Yoga, Patanjali Yoga Peeth and Thai-Chi etc. He also holds PG Diploma in Yoga from Annamalai Univeristy. For the Teacher Trainees he teaches Yoga theory, Yoga Philosophy, Teaching Methodology, Bhagawat Gita and Ethics for Yoga.
Omanakuttan Gurukkal
Omanakuttan Gurukkal who has dedicated his life to the preservation of the ancient martial arts tradition of Kalaripayattu, is the founder and the chief trainer of Amme Devi Kalari Sangam and Ayurveda healing praxis center , which trains hundreds of martial art enthusiasts every year. His experience in martial art for past 28 years made him recognize as one among the leading martial art specialist by Sports Council of India. His interest and expertise in yoga motivated him to explore and innovatively develop KALARIPAYATTU based Yoga training for our SAMYOGA FOUNDATION. His passion and knowledge in marma – (vital points) is much appreciated by his patients by the astonishing results in musculo-skeletal disorders. As a teacher his humbleness , humanity and patience makes him a real MASTER in his field. Alignment and Kinesiology through Kalari-Yoga are the sessions handled by Omanakuttan Gurukkal for SAMYOGA.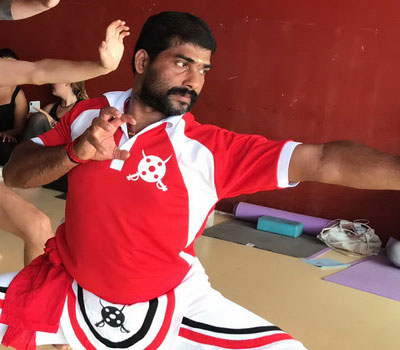 Satheesh Master
An inspirational and motivated yoga therapy specialist with advanced training and specialization in Yoga graduated from Krishnamacharya tradition. His scholarly credentials include M.phil in Yoga and M. Sc. in Yoga therapy from 'The Tamilnadu Physical Education and Sports University, Bachelor degree of Naturopathy and Yogic sciences, YTTP from Krishnamacharya Yoga Mandiram, Advanced Teachers Training Course from Shivananda Yoga Vedanta Center, PG Diploma in Yoga therapy from Vini yoga healing foundation and PG Diploma in Yoga therapy from Yoga Vidya Sala. He is our visionary for bodywork and movement studies which emphasizes internal physical perception and experience and chief visiting faculty for Yoga therapy, kinesiology and somatics.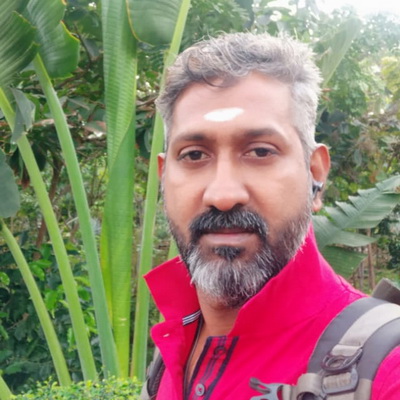 Kumaresan Master
"To be unique in what I am doing through continuous learning, practice, and constant application of creativity and sheer hard work to make success in Yoga"
Seventeen years of Meditation practice, Stress Management yoga, Breathing Exercises(Pranayama), Yogasana Classes, Sessions And Workshops on Yoga & Hatha Yoga, Meditation Kumeresan YIC from, SVYASA University-Banglore, Diploma in TTC-YOGA International Sivananda Yoga Vedantha Organisation his experience and silence during yoga is a unique blend. He is engaged with SAMYOGA to initiate a injury free practice and training sessions.